** IMPORTANT UPDATE** Please note that the Wendover casinos have suspended their flight program, all 2020 dates have been cancelled.
Vegas style gaming at less than half the price!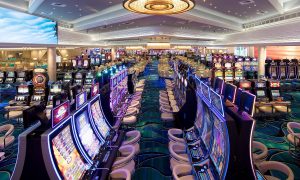 No hidden fees. No extra taxes.
Package includes:
Return airfare to West Wendover
Grand Forks Departure
Airport taxes
Shuttle to & from airport in Wendover
3 nights hotel accommodation at your choice of 3 resorts
Casino coupons valued at $100 (Coupons have no cash value)
VERY reasonable single supplement!
*Optional bus transportation to Grand Forks with shopping available on select dates for an additional fee.
Choose from 3 great hotels:
Rainbow Resort – offering 429 rooms, indoor pool, Jacuzzi and great restaurants.
Peppermill Resort – offering 382 rooms with luxury linens.
Montego Bay Resort – with 552 rooms, outdoor pool and Jacuzzi, workout facility and 3 great restaurants. Upgrade to this resort for a nominal fee.
All rooms feature coffee makers and all resorts offer free wifi internet access.
Seats book quickly – don't miss out, get your name in now!
Current flight information – please note that flight times are subject to change.  These are the actual FLIGHT times and NOT the times the bus departs from Winnipeg/Grand Forks. (flight times subject to change)
No flights currently scheduled
Wendover Package FAQ:
I received an offer from Wendover in the mail – do I have to call them to book it? –
No! We can absolutely take care of booking any comps or 2-for-1 offers that the casino sends you.


What time do I have to be at the airport? – If you're taking the optional bus transportation from Winnipeg you don't need to worry about getting to the flight on time!  Just be at one of our pre-arranged pick-up points and hop on the bus.  Otherwise your flight information will be sent to you directly from the casino.
What kind of ID do I need? – Either a passport or an enhanced driver's license are required to enter the United States, we highly recommend using a passport.
Are children allowed, is there child pricing? – As this is a casino-sponsored gambling package all passengers must be at least legal gambling age in Nevada, 21.
How much luggage am I allowed? – Baggage allowance is one checked bag and one carryon per person.
I received some forms from the casino, what are these and what do I do with them? – Most people will receive their forms with their package on the bus, although in some instances the casino may mail them out to your ahead of time.  The forms are the contract of carriage for the package, just sign the forms and bring them with you.  You do not need to mail them.
When do I receive the coupons for the package, they weren't with the forms? – You will receive your coupons with your room keys on arrival at the airport.
Why doesn't the plane stop in Salt Lake City anymore?   When the flights departed from Canada they were required to stop in Salt Lake City – because the flights were coming from outside the country they had to land at an international airport in order for the customs paperwork to be processed.  The stop is typically about 15-20min.  In very warm weather the plane also had stops in Salt Lake City on the return to to refuel.
What time zone is Wendover in? – Wendover is on Mountain Time, 1 hour behind Winnipeg.  Although located in Nevada, Wendover is located right on the Utah border and much of the town is actually located in Utah.  In fact the parking lot for the Montego Bay casino is actually in Utah.

click here to view our Wendover photo album on Facebook

Contact us for more details and to book.
All tour dates, prices and packages are subject to change. Please call the office for the latest information and details.